Speaking Truthiness to Power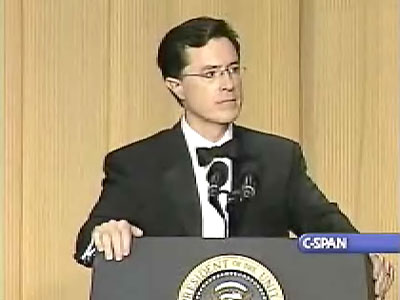 According to the
New York Times
, which at first ignored the story, the
blogosphere is all in a lather over Stephen Colbert's performance
at the White House Press Association's dinner for the president.
It seems that everyone (except me) has expressed an opinion about the shtick in which Colbert,
in character
, deadpanned support for President Bush and disdain for the press. The result was either a) brave and hilarious or b) cruel and unfunny, it seems, depending partly on a) your politics and, more importantly, b) your receptiveness to irony. Mary Matalin hated it; Al Franken loved it.
More than anything, the performance was unrelentingly ironic. And judging from the lack of laughter in the crowd, that wasn't exactly the comedic fare the attendees were expecting. (It could have been worse, of course. They could have gotten
Ali G
.)
The most interesting thing about watching the video is, in fact, gauging the reaction of the crowd. While a few in the audience (Antonin Scalia, for one) genuinely seem to be getting a kick out of it, most are stone-faced or squirming in discomfort, probably because President Bush himself looks so ill at ease roasting away in the hot seat. When Colbert makes the crack about Bush's energy plan (mesquite-powered cars by 2008) the Commander-in-Chief looks he has half a mind to storm the lectern and beat the little wise-ass to a pulp.
No surprise then that the audience expressed relief when Colbert finally turned his attentions from Bush to Jesse Jackson. Of Reverend Jackson, Colbert said, "You can ask him anything, but he's going to say what he wants, at the pace that he wants. It's like boxing a glacier." He then paused for what was one of the bigger laughs of the evening, before adding: "Enjoy that metaphor, by the way, because your grandchildren will have no idea what a glacier is." And that got an even bigger laugh.
Forced to give my own verdict on the performance, I guess I come down in the 'brave and hilarious' camp. Colbert's humor may have been harsh at times, but it didn't bite. To the contrary, it was exactly what satire's supposed to be: biting.