Damned if We Don't
Climate change is not the only problem associated with carbon dioxide emissions. C02 is also making the oceans more acidic.
A
new study published in the Geophysical Research Letters,
the journal of the American Geophysical Union, conludes that ocean pH is declining (that is, becoming more acidic) as the seas absorb atmospheric carbon dioxide. Some portion of that
absorbed CO2 becomes carbonic acid
, a corrosive agent that dissolves calcium carbonate, the basic building block of corals and seashells, including the shells of phytoplankton. Those plankton are not only the base of the ocean food chain, they also play an
enormous role in climate regulation
by
removing carbon from the atmosphere
.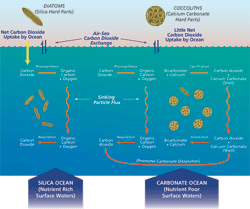 The study further concluded that this acidifying trend will continue regardless of warming, a finding that
throws a wrench in any geo-engineering schemes that might address warming without reducing atmospheric CO2
. There's no getting around it. We have to reduce CO2 emissions.
Says Ken Caldeira, one of the study's authors: "Ocean acidification threatens all marine organisms that use calcium carbonate to make their shells. However even as the planet warms, our study shows that we can help the ecological balance in the oceans by curbing CO2 emissions now by using wind, solar, nuclear power, and other alternative energy sources."