We have created this page as an ongoing platform for resources and information on the links between environmental and racial justice. It also acknowledges racism within the Sierra Club and the Lone Star Chapter's commitment to undo white supremacy culture in our organization. This page will also include a series of blog posts that highlight the history of environmental racism in Texas and in the environmental movement as well as resources for you to become involved in the fight for justice. Sections in this page include:
Racial and Environmental Justice at the Lone Star Chapter 
Racism is an Environmental and Public Health Issue
Anti-racism Resources  
Racial and Environmental Justice at Texas Sierra Club
In the summer of 2020 in the wake of the death of George Floyd, a Black man murdered by police in Minneapolis, the movement for Black liberation and racial justice in the U.S. grew louder and stronger to make urgent demands on our governments and broader society to finally- and genuinely- end police brutality.
As activist Tamika D. Mallory said following George's death,
"This is a coordinated activity happening across this nation, and so we are in a state of emergency. Black people are dying in a state of emergency." 
We are still in a state of emergency. 
It is critical that white people acknowledge that their privilege upholds and is a function of white supremacy. No matter how well-meaning, progressive, or advanced in anti-racism any one white person may feel, all white people must continuously examine their white privilege, how it has shaped their own lives, and how it impacts people of color. 
Examining white privilege means asking oneself uncomfortable but necessary questions. What are white allies willing to give up in order to dismantle white supremacy? What does a white ally gain from abolishing a system that benefits them?
At the Lone Star Chapter, we acknowledge that we must dismantle white supremacy in our own organization so that we can dispel it from the broader environmental movement. As an organization, and within our work space, we recognize that there is much to be done in order to dismantle white supremacy culture and to truly be environmental and social justice centered.  
Sierra Club's work, in Texas and throughout the country, operates on stolen land of Indigenous people. Sierra Club itself began as a conservation organization, and it has been seldom mentioned in white environmental spaces that conservation was one of many genocidal tactics used to rob Indigenous people of their lands, culture, and homes. Indeed, John Muir, our founder, was an agent in the genocide of the original people of North America.
Black, Indigenous and People of Color (BIPOC) have said and continue to say: in order to tackle climate change and ecological destruction, we must also tackle white supremacy and the current systems of oppression. For the Lone Star Chapter to be a real agent of positive change and show genuine solidarity with Black lives, we must begin with our own work, culture, and staff. 
The climate crisis is not just racist in its disproportionate impacts on communities of color-  white supremacy helped create the climate crisis. You can read the Lone Star Chapter's commitment to intersectional environmentalism, anti-racism, and the Black Lives Matter movement through our blog post, Radical Means Grabbing Something By the Root, which also includes definitions and a list of anti-racism resources. 
The mainstream western environmental movement often wants to separate itself from racial and social justice issues. We've heard this from Sierra Club critics who say, "Keep social issues out of conservation." Many people, including some Sierra Club volunteers, staff and leadership, think that we shouldn't or don't need to address racial disparities when advocating for the environment. But the truth is that these movements are intrinsically connected.
Racism is an environmental and public health issue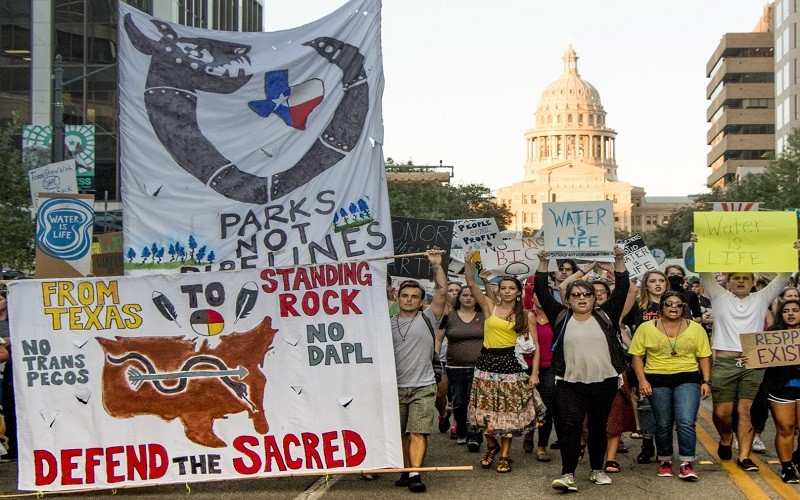 Sierra Club, both on a national and state level, has long nursed the narrative that environmental issues are public health issues. This is true. However, it is an incomplete truth if we do not also fully and consistently acknowledge that racism is an issue of the environment and health. 
Racism is itself a public health crisis. Racism is the root of persistent systemic discrimination in every aspect of society, including in health care, housing, education, employment and criminal justice- all of which are important determining factors in our quality of life, mental health, and physical wellbeing. Additionally, many Black, Indigenous, and people of color suffer from generational trauma as a result of pervasive white supremacy culture and racism that has consistently impacted their families and communities. 
The global COVID-19 pandemic has shed a brighter light on the inequalities of the public health system, and how environmental issues intersect with both health and race. In Texas, the virus has disproportionately impacted Black and Latinx neighborhoods. In Harris and Dallas counties, the highest positivity rates have been found in predominantly Latinx areas and lower-income Black communities, consecutively. Additionally, Black and Brown people are at a higher risk dying from the virus as the public health system works against them and they struggle to make ends meet by working in industries that do not allow for social distancing. Indigenous communities and Native Nations are also severely at risk and several states, including Texas, were not including these communities in their demographic data on the impact of COVID-19, often labeling them as 'other'.
It can't be overstated that pollution is a racial justice issue. Many of the same communities of color most impacted by COVID-19 also face chronic exposure to massive amounts of pollution. It is well known that there is more exposure to air pollution in Black and Latinx neighborhoods, especially fenceline communities that neighbor enormous petrochemical complexes. In Texas, the prevalence of asthma is greater among Black adults than among white adults, and it has been found that Black people are 3 times more likely to die from air pollution due to their proximity to hazardous waste sites. 
Although air pollution is disproportionately caused by white people, Black and Latinx people bear 53% and 63% more air pollution that they cause, respectively. The fact that these waste sites and pollution-emitting factories and plants are placed near Black and Brown neighborhoods is not a coincidence. It is a consequence of systemic racism that forces low-income people of color into sacrifice zones to the fossil fuel industry.
Pollution and COVID-19 are only two (though quite covert and mutually affecting) public health issues that are severely impacting communities of color. The generational trauma and constant threat of police brutality, the ultimate agent of white supremacy, is a consistent danger to BIPOC, especially Black people. And police brutality is more closely related to polluting industries than you think.
Anti-racism Resources
Organizations that Empower Black Lives
Articles and Social Links
Our Blogs On Environmental Racism in Texas