October 8, 2020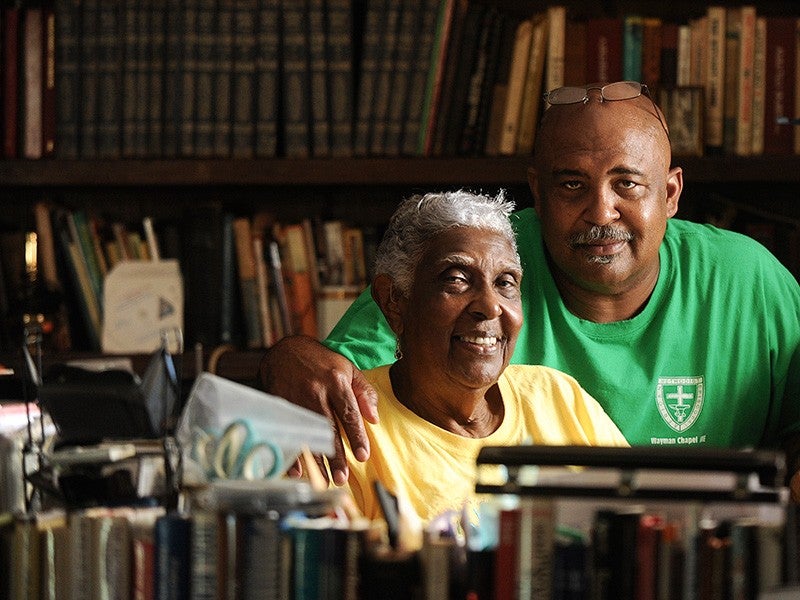 Pastor Ron Smith with his mother Ann Smith, retired teacher and community leader, in Ann's office at her home near Tallassee, AL.
Photo Courtesy of Jeronimo Nisa for EarthJustice
This press release was originally release by the Earth Justice. 
Communities across the country applaud a ruling by a federal judge requiring EPA to follow the law and investigate civil rights complaints in a timely manner.  
The decision resulted from a lawsuit filed by community-based groups in 2015 against the U.S. Environmental Protection Agency challenging the agency's failure to investigate their civil rights complaints for more than a decade in violation of federal law.
District Court Judge Saundra Brown Armstrong today denied EPA's motion to alter the court's judgment to remove from it an order specifically requiring EPA to follow the law for civil rights complaints filed in the future.
EPA is responsible for ensuring that public and private recipients of its funding comply with Title VI of the Civil Rights Act of 1964, which prohibits discrimination on the basis of race, color, or national origin. EPA's rules require that the agency complete its investigations into civil rights complaints filed under Title VI within 180 days, but time and again, EPA has failed to complete investigations in a timely way, sometimes for decades, leaving community groups with no recourse. Today the court reaffirmed that the EPA must comply with the law. 
Father Phil Schmitter of the St. Francis Prayer Center stated, "The EPA has a long history of failing to enforce civil rights." In 1992, the St. Francis Prayer Center filed a complaint with the EPA alleging that Michigan's state environmental department discriminated by approving a permit for the Genessee Power Station in an area of Flint, Michigan that already had more than 200 polluting facilities.  EPA accepted the complaint for investigation, but then the complaint gathered dust for decades.
In 2017, 25 years after the St. Francis Prayer Center filed its complaint, EPA finally issued a finding of discrimination. "It wasn't until we went to court, along with other community groups whose complaints were also ignored by EPA, that EPA took any action," said Fr. Schmitter. 
"Meanwhile, residents of Flint have lived in the shadow of polluting facilities. EPA failed to hold the state accountable for discrimination, allowing our state agency to carry on with its ways for decades longer than it should have." 
"If EPA had investigated St. Francis Prayer's Center's complaint in a timely manner 20 years ago, we might have seen improvements in state procedures and policies that could have avoided future tragedies like the Flint drinking water crisis," said Suzanne Novak, staff attorney at Earthjustice. "That is why access to the courts is so critical. Without accountability to a court, EPA might never have acted at all."
The ruling today came in a case filed on behalf of CAlifornians for Renewable Energy (CARE), Ashurst Bar/Smith Community Organization, Citizens for Alternatives to Radioactive Dumping, the St. Francis Prayer Center, Sierra Club, and an individual, Michael Boyd. The plaintiffs alleged that EPA failed to issue preliminary findings regarding their administrative complaints filed under Title VI of the Civil Rights Act within 180 days as required by law. 
The court had previously issued a decision in favor of the community groups, finding EPA's delay in handling their cases violated the law. Today's decision rejected EPA's objection to the court's judgment.  "EPA seems to have more interest in litigating against communities than enforcing civil rights law. This has to change." said Phyllis Gosa, who filed a complaint in 2003 against the Alabama Department of Environmental Management.  "We filed a civil rights complaint to address discrimination in environmental permitting.  It's high time EPA took timely action to address racial disparities in exposure to pollution," said Michael Boyd, who filed the 2000 CARE complaint to challenge permitting decisions by state and regional air agencies that had racially disproportionate impacts on communities of color in Pittsburg, California.
A scathing report from NBC and Center for Public Integrity uncovered that more than 90% of civil rights complaints to the EPA were rejected or dismissed. In fact, the EPA's External Civil Rights Compliance Office had only once formally found that anyone's civil rights were violated when the lawsuit was filed in 2015.  The St. Francis Prayer Center complaint from Flint was highlighted in a report issued just this week by EPA's Office of Inspector General (OIG), which found that EPA had failed to provide the necessary oversight to ensure that recipients of EPA funding comply with Title VI. "EPA continued to litigate this case for years, challenging even a court mandate that essentially said that the agency needs to follow the law.  Instead, EPA should have been taking the steps outlined in the OIG report to address the racial inequalities in environmental decision-making that have led to gross racial disparities in the location of polluting facilities and exposure to environmental contamination," said Marianne Engelman Lado, the director of the Environmental Justice Clinic at Vermont Law School.
"The court has spoken. Which makes it a good day in the long-standing battle for civil rights in this country." said Neil Carman, who had filed a complaint against a Texas state agency challenging its decision to grant a permit amendment to allow increases in emissions at a Mobil Oil facility in Beaumont, Texas, that is sited next to an environmental justice community suffering from the refinery's air pollution. 
"Even though the court ruling brings some justice, at the end of the day, action in defense of civil rights is more necessary than ever. States continue to give permits to more and more facilities in already polluted areas, and EPA still doesn't have an effective civil rights program," said Deborah Reade, who worked with the Citizens for Alternatives for Radioactive Dumping on a complaint filed with EPA against the New Mexico Environmental Department for discriminating against Spanish-speaking residents. 
The judge's order is attached and additional information on the cases that led to the lawsuit can be found here. The community groups are represented by Earthjustice and the Environmental Justice Clinic at Vermont Law School.